Back to School Resources
School News
If you require a transcript over the summer break, please go to the school website under the STUDENT tab and click the "Course Change/Transcript Button".    The Continuing Education Department at 320 Bloomington Road West, Aurora, will be issuing transcripts from July 17th until Aug 19th (until school offices reopen on August 22nd) Transcripts will be available for pick up only, during these dates, from 8:00 ...
Continue reading

"Transcript Requests Over the Summer Break"
Board News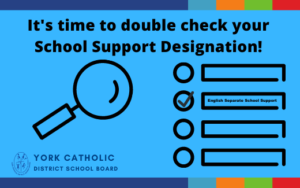 Protect and promote Catholic education – Ensure you are registered as a
Catholic Separate School Supporter
Did you know?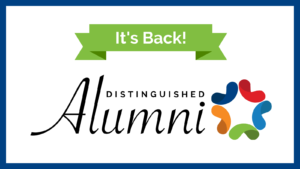 Nominations Open! The YCDSB Board of Trustees is pleased to announce the return of its Distinguished Alumni Awards.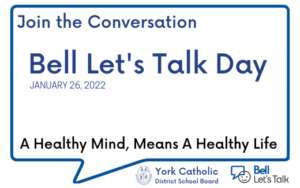 The York Catholic District School Board is preparing to mark Bell Let's Talk Day on Wednesday, January 26, 2022. This year's Bell Let's Talk Day campaign highlights the ways that we can support ourselves and those we care about through actions like listening, being there and talking. As we continue to focus on action to increase awareness around mental health and mental illness, we ... Continue reading "Bell Let's Talk Day 2022: Supporting ourselves and each other"